Franchise Tax Board Hero Receives State's Highest Honor for Public Servants
For Immediate Release
Media Contacts Only
Phone

916-845-4800

Email
12/24/2021
Sacramento — The State of California awarded Franchise Tax Board (FTB) Health and Safety Coordinator, Richard Siemers, with a Governor's State Employee Medal of Valor for courage in the face of danger. Siemers received the Silver Medal of Valor for risking his life to save another.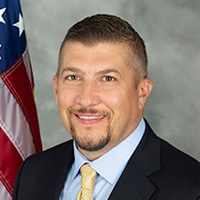 Richard Siemers
"Medal of Valor recipients selflessly answer the call of duty and display exceptional heroism in the face of life-threatening peril," said State Controller and FTB Chair Betty T. Yee. "It is an honor to recognize Richard for his courage and sacrifice to protect his fellow Californians."
"Thank you, Richard, for your heroic efforts! No words can describe your inspiration to us all, especially in these trying times," said FTB Executive Officer Selvi Stanislaus. "We are very grateful for you and thankful to have you in the FTB family!"
Siemers and his wife, Yvette, took their dog for a walk in their neighborhood on the evening of April 15. Before returning home, a passing driver stopped the couple and told them about a man who had collapsed and was lying up against a fence just a short distance away. They immediately started in that direction.
Upon finding the man unresponsive, the two asked a nearby neighbor to call 9-1-1 for help. Siemers noticed the man was not breathing, and he wasted no time and began performing CPR. Siemers continued until emergency medical personnel arrived on the scene. With the help of medical staff, the man started breathing and regained a pulse before being transported to the hospital.
Siemers's actions did not come without a cost. During these times of COVID-19, any interaction could mean possible exposure to the virus, and there was no exception during this heroic rescue. Immediately after the incident, he remained quarantined at home for several days. He never missed a call or video conference during that time, always making sure everyone at FTB was healthy, safe, and well.
The State Employee Medal of Valor Award is the highest honor California bestows on its public servants and Governor Edmund G. Brown Sr. presented the first awards in 1959. Today, nearly 700 state employees have earned that honor for displaying bravery, courage, and selflessness in the face of danger.
FTB administers two of California's major tax programs: Personal Income Tax and the Corporation Tax. FTB also administers other non tax programs and delinquent debt collection functions, including delinquent vehicle registration debt collections on behalf of the Department of Motor Vehicles, and court–ordered debt. Annually, FTB's tax programs collect more than 70 percent of the state's general fund. For more information on other taxes and fees in California, visit: taxes.ca.gov.