State Controller Betty T. Yee available on April 12 for last-minute tax season interviews
For Immediate Release
Media Contacts Only
Phone

916-845-4800

Email
04/10/2019
FTB Chair to discuss April 15 tax day, ways to file fast, CalEITC, MyFTB, and more
Sacramento – State Controller and Franchise Tax Board (FTB) Chair Betty T. Yee will be available for interviews about this season's state tax trends from 10 AM to 11 AM on Friday, April 12, at the Franchise Tax Board in Sacramento.
B-roll opportunities will include FTB employees working in the tax return processing area with machinery used to open returns and high-speed document scanners.
Key topics:
What to do if you cannot file by Tax Day, April 15
Where to find free e-file options
How to get a fast refund and track your refund
How to claim California's expanded, cash-back Earned Income Tax Credit
What to do if you cannot pay your taxes
Ways to avoid becoming a victim of tax fraud
DATE: Friday, April 12
TIME: The Controller will be available for interviews from 10 AM to 11 AM
LOCATION: Tax return receiving area, Franchise Tax Board, 9646 Butterfield Way, Sacramento. Meet at Town Center entrance for escort. Please see below for map.
WHERE TO PARK:
Upon arrival at FTB, please park in Visitor Parking (noted in green in map below).
Walk past the flag poles and into the California Town Center North Lobby. FTB's public affairs team will meet you at the guard station. Bring a photo ID for the sign-in process.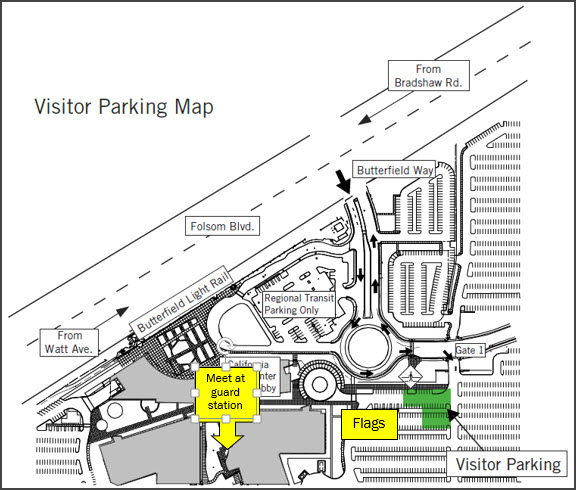 Franchise Tax Board Central Office location:
DIRECTIONS: From downtown Sacramento:
Take U.S. 50 east toward South Lake Tahoe
Take Bradshaw Road exit and turn left at light
Turn left on Folsom Boulevard
Turn left on Butterfield Way
Follow the roundabout toward the left
Turn right into the parking lot at Gate 1
Park in Visitor Parking
Walk to Town Center North Lobby guard station.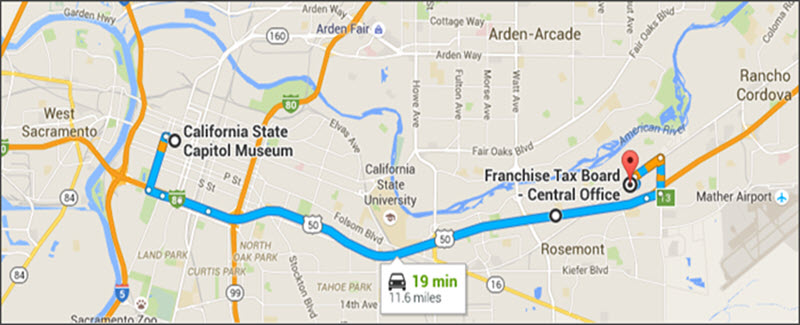 FTB administers two of California's major tax programs: Personal Income Tax and the Corporation Tax. FTB also administers other non tax programs and delinquent debt collection functions, including delinquent vehicle registration debt collections on behalf of the Department of Motor Vehicles, and court–ordered debt. Annually, FTB's tax programs collect more than 70 percent of the state's general fund. For more information on other taxes and fees in California, visit: taxes.ca.gov.